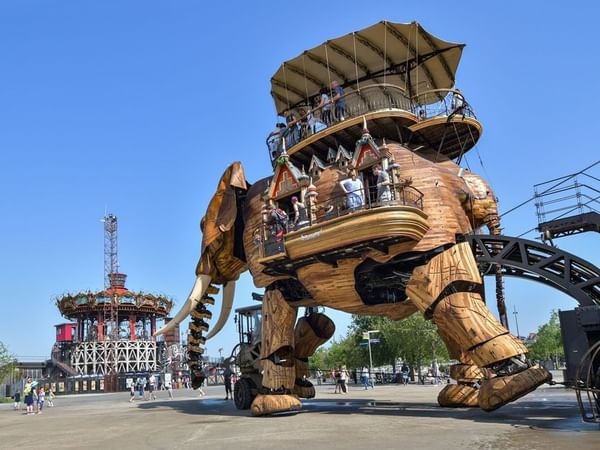 The Journey to Nantes
Nearby hotel
Nantes, located only 25 minutes from The Originals City, Hotel Saint James, Nantes Sud offers a multitude of activities!
History lovers? Saint Peter's Cathedral opens its doors to you. Take the time to discover the Château des Ducs de Bretagne. Let yourself be enchanted by five centuries of history.... To discover with family or friends: Les machines de l'Île, a magical world on the island of Nantes.
On the very place where the large ships were built, at the crossroads of Jules Verne's "invented worlds", Leonardo da Vinci's mechanical universe and Nantes' industrial history, these monumental structures are urban sculptures accessible to the public. Visit the Galerie des Machines on the island of Nantes and fly under the wings of the heron, board the Great Elephant for a trip to the island of Nantes or ride the bestiary of the Carrousel des Mondes Marins!
A nature lover? The Jardin des Plantes is made for you: on 7 hectares, the Jardin des Plantes has a collection of rare plants, squares of medicinal plants, many varieties, camellias, cactus greenhouses...
For architecture fans, visit the island of Nantes: In this constantly changing district, there is a creative effervescence: the great schools of architecture, design and graphic arts meet the achievements of contemporary artists.